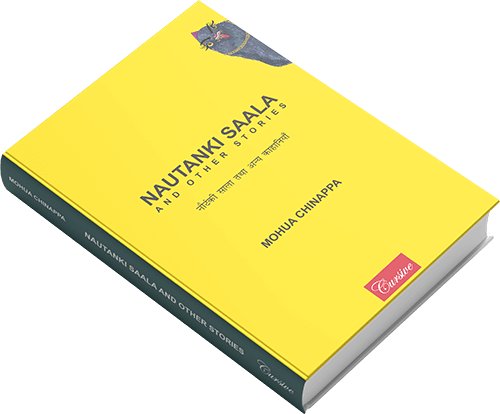 Nautanki Saala And Other Stories
I had started thinking of her as a lunatic. Instead, I asked her to not worry about others' opinion… She smiled at me and asked out of the blue, if my cat speaks to me? When I said no, she seemed angry. I felt sorry that I didn't. I wished I had one, just for her sake. A former communications and brand consultant, Mohua Chinappa has met women from diverse backgrounds, from a tribal Khasi woman who ran a tea stall to a journalist from the Northeast trying to fit in the big city to an unassuming college girl who could not anticipate the 'consequence' of her brutish rebuke to a man. So, in Nautanki Saala and Other Stories, an average bar dancer gives an old fart, the finger he deserves, many protagonists believe they are not enough. As a result, the protagonists in this book do these and more:
They deny their feelings
They deny their desires
They make poor decisions
Most of the stories in the author's debut book are based on the women and men she met in a span of two decades, from the early 80s to the 2000s. While the lives of the people are a testament to the cultural-economic shift in these decades, they are also an attempt to strengthen the feminist who hesitates in confiding
Mohua Chinappa is an author, podcaster, voice over artist, and a branding specialist, Mohua has over 15 years of experience in leadership positions as a Public Relations/Corporate Communications specialist. In her earlier stint as the national head of GCI, the public relations division of The Grey Group, she has been responsible for bringing in business and creating campaigns for the largest brands of India and the international market. Her rich experience in other communications firms like Brandcomm, HCL, ITC, and Genesis PR, has enabled her to lead teams towards successful brand campaigns.
She also has an extremely successful podcast called The Mohua Show, which is available on multiple platforms such as Apple podcast, Spotify etc. In this space, she interviews artists, entrepreneurs, and individuals, who are striving to create an economic and social change in their environment. Mohua is currently on an entrepreneurial journey as an empath. She is striving to give opportunities to people who cross her path and provide a platform for the unheard voices in society to be highlighted, respected, and also be recognised.
---